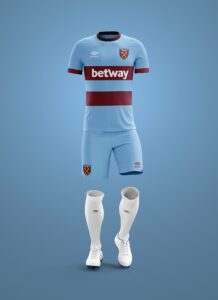 West Ham new away kit for the 2020/2021 is ready to launch as early as Friday morning.
Supporters up and down the land have been receiving their new West Ham home shirts today which were launched at the end of June to commemorate 125 year anniversary since the club was formed as Thames Ironworks.
The Home shirt featured a traditional Claret body and Vista Blue sleeves, complete with Vista Blue collar and Claret tipping to the cuffs, a stylised rib neckline and the 125th-anniversary two-colour crest. And it's that crest that draws a lot of the attention. Stripped back, it boasts the year of the club's inception – 1895 – faced off with 2020, operated by the '125 years' callout. The crossed Hammers appear on the rear of the neck, with '125' below, acting as a nice sign-off.
The away kit is said to also be the traditional light Sky blue with two Claret hoops but this time the hoops look slightly further apart and slightly thicker than previously.The kit is said looks like an old traditional style with Blue in the main body with Claret around the end of the sleeves and the collar.  Shorts are thought to be Sky Blue with White socks.
This mockup of the new 2020/2021 season West Ham away kit based on descriptions was created by West Ham supporter Alex Fynn on Twitter.