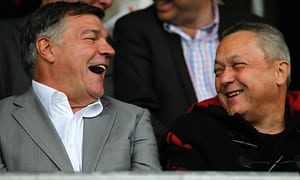 Former West Ham manager Sam Allardyce has lifted the lid on his relationship with West Ham owner David Sullivan.
And he has revealed the club owner would sometimes turn up pre-season with a present of centre forward signing he fancied.
Big Sam told Alan Brazil on Talksport "David (Sullivan) will have his own mind on his own players, we all need to work hand in hand I found with dealing with David when I was there was the order of the day.
You get the odd present from David now and again, where he fancies it so brings him in anyway, so you have to live with that  He don't mind that and he says "I have got you a little present" but you just hope it works.
He just turned up pre-season and says "I fancied this one;" it's always a centre forward, one that scores goals which is fine because you think  you can come and score goals. 
Asked by Alan Brazil what happens if you don't play him Sam smiled and said "You get the can for that!" it's your coaching techniques not bringing the best out of him. I am not naming names, no I am not" 
🎁 "You'd get the odd present from David Sullivan now and again."

😳 "A player would just turn up at pre-season! Normally a striker."

🤦‍♂️ "If they didn't score it was down to your coaching!"

Sam Allardyce reveals #WHUFC's David Sullivan would surprise him with new signings! 📝 pic.twitter.com/NqQd6JBzbi

— talkSPORT (@talkSPORT) January 27, 2020