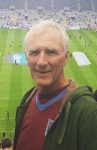 By Candh's top blogger Allen Cummings
Ok, the FOR SALE sign finally goes up at the London Stadium. It becomes official. Buyers are welcome. Viewings invited.
What follows?  At that point there isn't much we can do except sit and wait – and being realistic, it could be a long wait.
Let's look at Newcastle – a bigger club and to use a word I hate – brand – that is bigger than ours:
That club has been for sale for a number of years, with  PCP Capital Partners previously made a £250m bid before talks fell apart. They are now – several years later – in negotiations with a consortium at a reported price of around £340 million.
Last year, it was reported that Sheikh Khaled bi Zayed Al Nehayan was close to buying , but no deal went ahead.
Mike Ashley has proved to be unpopular with Newcastle United fans, as thousands of supporters have boycotted matches this season to protest his ownership.  Fans have also travelled to protest outside the retailer's shareholder meetings.
The situation at the London Stadium and St James' Park would appear to reflect each other!
So what happens at West Ham while while we're waiting? We have complained long and hard that the present incumbents have never had a plan or strategy, a definite direction in which to head. So let's use that waiting time to work on what would be our preferred plan for the future of our club?
Are we looking for mega-rich overseas owners prepared to bankroll a spending spree? Buy ourselves an 'instant' place at the top table. Money being no object. Maybe we're looking for a big brand, multi-national company, a kind of Red Bull ownership deal perhaps? The kind that's happened elsewhere.
Or maybe we are prepared to bite the bullet and take the longer term strategy. If we slip out of the Premier League and our market value drops maybe we'd become affordable to a rich individual who also happens to be a genuine football fan (not compulsory of course).
Someone prepared to build from the bottom, invest in youth – create a new West Ham from the ashes. Would that be acceptable. Would we be prepared to wait?
We know where this club has been. It's written in our history –  but like the Boleyn – it's gone. Never forgotten, but undeniably in the past.
If this, and it's still a big IF, is meant to herald a new dawn, what do we want the West Ham of the future to be? What kind of club do we want to leave for the young Hammers of today? So many questions – the big problem is going to be finding the right answer!