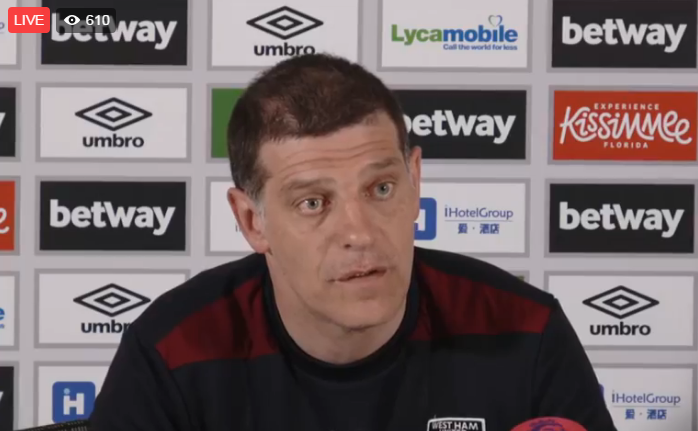 Slaven Bilic wants an "electrifying" atmosphere to rival the Hammers farewell to Upton Park – inside the London Stadium tonight.
Speaking ahead of the game he said: "This game reminds me a little bit of the United game last season at Upton Park.
"It's a Friday night game, it's a derby, under the lights. Spurs need points, we need points.
"These games are the reason you want to be involved in this job — the games you can't wait for. You don't need extra motivation [as a Hammer] when you are playing Tottenham. If you remember last season's game at Upton Park we beat them 1-0 in the most electrifying atmosphere.
"We also played a good game against them at White Hart Lane this season — we were leading until a couple of minutes before the end, but unfortunately we conceded two goals in three minutes so this is massive for us."
Bilic said: "I don't know if Tottenham will have the same problems as us when they move into their new stadium, but I wouldn't be surprised.
"It's going to be very hard for them to replicate the atmosphere at White Hart Lane, where everything is so close to the stands. They have already felt it at Wembley in the Champions League.
"Although the pitch may be the same, it is a totally different perception – and perception is the key, not the reality, because the perception is, 'I'm far away from everything!'
"We needed a few games to get used to it. After defeats, it's hard to say, 'It's not important' – we needed a lot of time to adjust."
West Ham are a massive 38 points behind Tottenham and Bilic shrugged: "OK, we can say they are not buying the players who cost all the money, but they are buying really good players – including some of the ones we wanted last summer.
"We can't watch European football every week and say, 'Yeah, we'll have this one [player], that one and that one.' We have to do it on a limited budget and Spurs have shown it is possible — either they were lucky or they had great scouts.
"This is not the season we wanted or had planned. I'm not hiding from that, and I haven't enjoyed it. Anyone linked with West Ham should know we have had many unbelievable obstacles this season. They are not excuses, they are reasons why it hasn't been like last year.
"On the other hand, this kind of season makes you better as a manager: either you crumble or you come out of it stronger. So they offer great value for me individually, although you don't enjoy it. It's a great battle."