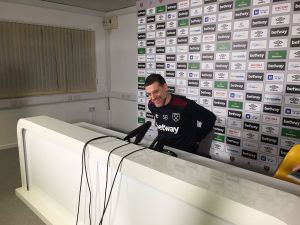 Slaven Bilic has given his pre-match press conference ahead of Crystal Palace away on Saturday.
Slaven told reporters "Michail Antonio had a bruise on his rib and only trained yesterday. We are going to see today. We are training at 2pm. Nobody said yesterday they felt anything. Antonio will train today and then based on that we will see what shape he is in."
On Wednesday's win, he said: "It means a lot. Defeats get you down. Every win gives you a bit of a boost and a better atmosphere. Especially if it happens like it did the other night. Against Spurs, at Wembley, gave us a lot of confidence. I said the result at half-time was very bad for us. We didn't demonstrate what we can do. If we raised the level of quality in the last third we had a chance and the next goal was the key one. We improved our game when they had the ball. We raised our level."
On facing Palace on Saturday: "The next game is very important. We want to continue and use that win and that self-confidence when we approach the game tomorrow. It's a new game. It's a big game, a massive game, a game of massive importance. We have to show our quality and our character."

"We turned a corner after those three away games at the beginning of the season. We were on the way up until Brighton. We wanted to put a strong team out against Spurs but also rest some players. Those players deserved their chance. The situation is that most of the squad is fit and we have to consider a few things before we decide who will start tomorrow.
"The guys who beat Spurs away won the game, but on the other hand you have the guys who played good before Brighton. Sometimes you can't expect the same energy level in such a short period of time as well. Whoever starts, every individual is involved in the team."
On Palace's current form: "I'm not surprised. It's not nice to see a manager go so early in the season. It will keep happening though, and not only in England. The start is very important. The quality of the Premier League is so great that once you're in that bad start it's very difficult to come out of that. They changed their manager and I've watched their last three games and they were good. They beat Chelsea, played well against Newcastle, and have improved."
On rumours about the sack "I talk to the chairmen often. I am totally focused on the things I can influence which is the training, talking to the players, and the games. With that in your head you can improve and affect the things you can change.I will never stop believing in my team because they are my players."