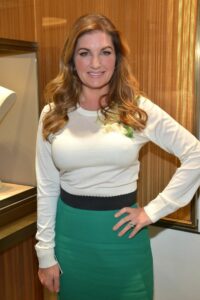 By new CandH bloigger Lee Dobbinson
After mulling over West Ham's recent mediocre commercial performance, I've been thinking about what might be next for Baroness Brady, now that Daniel Kretinsky's in town…..!
We haven't learned very much about how the new West Ham board operates, and will operate in the future, since Daniel Kretinsky acquired his 27% stake, and, importantly, an option to take full control of the club.
Given that he's sensibly decided to remain largely silent since his acquisition, we can only speculate on Mr Kretinsky's investment strategy.
Will Mr Kretinsky merely, like a certain Mike Ashley, want to retain control at West Ham, and keep us in the EPL at all costs, for as long as it takes to attract another buyer at an even higher price per share than he himself paid last year?
Alternatively will he want to maximise the return on his investment by pushing his executive team – including our CEO, Karren Brady – to grow broadcast, gate receipt and commercial revenues?
If we assume that Mr Kretinsky will want to maximise the return on his investment by growing those revenues, might he be expecting more than the underwhelming recent commercial performance delivered by our current CEO?
Let's not forget that the commercial side of the West Ham United 'business' is the only aspect that Karren Brady, as CEO, is wholly able to influence. The buck stops with her.
So, the money the Club makes from merchandising, sponsorship deals and advertising is very likely to be the measure by which Daniel Kretinsky judges her performance.
When he's in town, will he continue to be happy with the logo of an Ilford-based skip hire company adorning "Europe's largest wraparound screen" as he approaches the stadium on matchdays or will he want to see Karren Brady and team landing much higher value advertising and sponsorship deals with much larger corporates? I
If the Club fails to do so, much like a hapless contestant on The Apprentice, Karren herself may well be told: "You're fired".