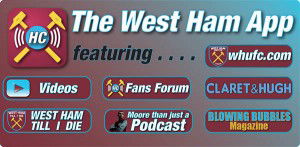 An amazing new app – which brings news from no less that seven Hammers sites – was released into the Google playstore minutes ago under a revolutionary new move by ClaretandHugh's proud partners Hammers Chat.
It's a quite fantastic development and will bring you instant up to the second news from the HC Fans forum, plus showing each of their amazing videos.
News from these sites will slso be featured within the package:
O ClaretandHugh
O West Ham Til I die
O whufc.com
O Moore than Just a Podcast
and Blowing Bubbles Magazine.
As West Ham United move into one of the most exciting periods in their history this is an app – a million miles in advance of anything else out there.
This really is all you need. This is a revolution in the way club news is delivered and all you have to do is visit the store and put the words 'The West Ham App' into the search box to join in.
Hammers Chat and ClaretandHugh have been keen to create a real on-line Hammers community – a family – and this is where we start by getting together as buddies – supporting each other.
And the great news is The West Ham App is absolutely free. Go and download now.
An Apple version from the i-Tunes store is available here 
Click to download iphone version
Android version below 
https://play.google.com/store/apps/details?id=com.nav.hammerschat