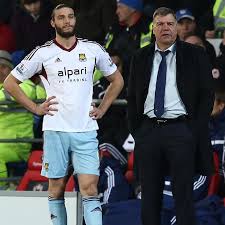 Andy Carroll is "only just over" the "total injustice of the three match ban" he suffered at the hands of Howard Webb when sent off against Swansea at The Boleyn!
But there's an upside to every situation and manager Sam Allardyce means that his thin diet of games this season means that he'll be as fresh as a daisy for the World Cup.
The fact that Allardyce and others inside the club regularly raise the issue suggests there's constant contact between them and the England manager.
And from the Upton Park boss' pint of view it almost seems as though out £16 million record signing can become the Three Lions secret weapon in Brazil.
Sam said: "The good thing from Roy Hodgson's point of view is that he won't have a fatigued player if he picks him.
"He will have a mentally and physically fresh player who is going to be very enthusiastic about going to the World Cup having missed most of this season."
And he added: "I think Andy's focus is about playing for West Ham and making sure that he catches up with his match fitness as quickly as he can.
"If he can find the goalscoring form he managed last season, we will be securing our Premier League place and then he can maybe think about attaching himself to that all-important England squad.
Carroll was omitted from the England squad for the recent friendly against Denmark, but his manager revealed that had not concerned the big forward.
"No, what Andy has been distraught about and has only just got over was the total injustice of the three-game ban," explained Allardyce.
"I think it has taken him a long time to overcome the frustration that we all suffered on that."