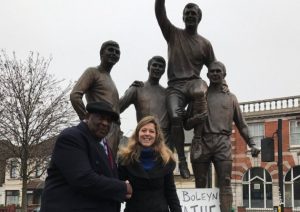 The Champions Statue at the corner of Barking Road and Green Street will stay in East Ham. A Newham Council cabinet meeting planned for the 22nd March to rubber-stamp the move of the statue to the London Stadium was cancelled due to Mayoral elections with no immediate plans to discuss the statue's move again.
At an Emergency Supporters Advisory Board  West Ham last month Projects & Stadium Operations Director, Philippa Cartwright who used to work for Newham claimed the statue move was agreed in principle by Newham's cabinet previously.
This view seems to have changed in recent weeks. Newham Councillor Rokhsana Fiaz who is Newham Labour's mayoral candidate who replaced Sir Robin Wales has pledged, if elected as mayor, to keep the Champions statue in its current location.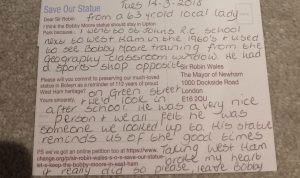 Fiaz said: "Bobby and his colleagues played in Boleyn – the statue is a proud piece of history that residents treasure all the more now the club has moved. It would not be right to move it.
Speaking Exclusively to Claret and Hugh this evening, campaigner Councillor Veronica Oakeshott said: "The campaign to preserve the Bobby Moore statue in Boleyn, where Bobby played, has inspired thousands. Residents, fans from near and far and West Ham legends like Clyde Best are all united in respect for the community that hosted the club for over a century and the belief that you can't move history. The new Labour Mayoral Candidate for Newham has promised to protect the statue in its current location. The electorate willing- this much-loved statue will stay where it belongs. The last stage of the campaign has involved sending postcards to the current Newham Mayor. Each one has the sender's own thoughts about why the statue should stay. 500 separate cards were sent."
Petitions have gathered more than 2,000 local signatures and the campaign has the backing of nearby businesses, shops, and ex-West Ham player Clyde Best as well as local MP Stephen Timms. A poll by Claret and Hugh in February this year of over 1,000 supporters indicated that over 83% of West Ham fans want it to stay where it is.