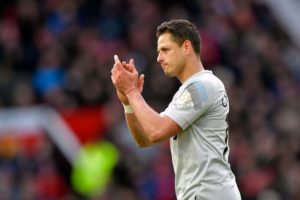 West Ham striker Chicharito has thanked Manchester United fans for the response he received at Old Trafford on Saturday evening.
Writing on his personal Instagram account the Mexican said: "It's difficult to find the words the feeling getting off the pitch today. Manchester United will always be a very special club for me and my family. Coming back to Old Trafford and to have a standing ovation is not easy to digest, Thank you Manchester United fans today for doing that. A day I will never forget. Hopefully United can get back winning Premier Leagues and Champions Leagues soon for the deserving fans, players and staff. Once again thank you very much and good luck in the future. Love you all!!!"
Hernandez was substituted off by Manuel Pellegrini on the 73rd minute, a decision that did not go down well with the 30-year-old striker who made his feelings very clear.