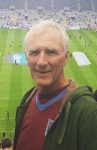 By CandH blogger Allen Cummings
So when we look back on the events of last night, in the cold light of day, what do we make of the latest chapter in the never-ending saga of West Ham United's troubled season?
Well, the result still stands at 2-0 to Manchester City. Nothing we can do about that but how should we view the events at the Etihad in the bigger picture?
Surely judging by predictions I had seen prior to the game, admittedly from some of our more masochistic supporters who were warning of a goal-feast at our expense, 2-0 was almost a 'result'.
It certainly didn't dent our goal difference as it might have done – and like it or not, goal difference is often defining factor, of any scrap at the bottom of the table.
Hadn't we all tired of Pellegrini's naïve, some say non-existent approach to defending, that left us wide open to teams with City's ability.
Remember the 5-0 thrashing they handed out in the first game of the season! Had we been sitting on the end of another five goal hammering, or worse, this morning, would the response have been: "It doesn't matter – at least we gave it a go – we played the West Ham Way". I very much doubt it.
The cries would have been: "pathetic defending" / "the team just gave up" / "they rolled over yet again". City were hurt by all the goings on of the last seven days, they had a point to prove and unfortunately for us, we were the handy fodder. The lambs to the slaughter – only it wasn't quite that was it?
Moyes set the team up to make life difficult for them and  to a degree it worked – that's why his post-match reflection was far from defeatist. Managers often see things differently to us – that's because they have a responsibility. We don't.
It doesn't get any easier . After last year's Premier League champions we move on to face this year's Premier League Champions (elect) – that has to be said of course, but who in their right mind thinks the final outcome will be anything other than a Liverpool triumph?
We've known for a while the fixtures we faced – and the majority opinion has been we need to grit our teeth, accept our punishment, and look beyond to the games that remain. Those are the games that will inevitably define our season.
Does anyone really expect Moyes' approach to the Liverpool game to be very different to last night? I certainly don't.
I do expect Jarrod Bowen to be given a bigger role though  and I believe we will actually get to see Felipe Anderson given some game time.
Moyes obviously has the next game at the London Stadium very much in mind, when we entertain Southampton, and will be building towards that.
There will be a different team – and a different game plan for that one, of that I am convinced.