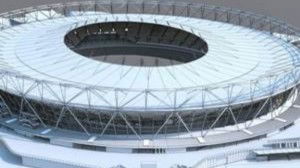 Cracks have been found in steel work during recent efforts to rebuild the Olympic Stadium roof.
Industry publication The Construction Enquirer claim cracking was spotted in some of the welds during recent lifting operations at the site.
Sources close to the project have also claimed that some strengthening plates in parts of the new roof structure had been missed out.
Steelwork contractor William Hare is overseeing remedial work to resolve these issues.
Balfour Beatty is  the main contractor on the £195m combined contract to convert the stadium and rebuild the roof.
It is understood problems were noticed on the main tension ring during work to lift some of the cables into place.
The site source told the Enquirer: "While lifting the cables in using strand jacks some cracks were noticed in the welds.
"Some strengthening plates had also been missed so work was stopped and now it's a case of working round the clock to put it right."
An E20 Stadium LLP spokesperson said: "We are building the world's largest single span cantilever roof which poses some challenging engineering issues.
"This is being managed as part of our quality assurance work and won't affect our long-term construction programme."