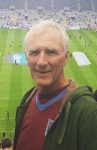 By CandH's top blogger Allen Cummings
Premier League footballers are coming in for a fair amount of criticism right now – and when the subject is centred around money, how much they're paid and how they use it – there's very little defence.
But look beyond the £ signs and it's clear in these unprecedented times footballers – who are frequently accused of living in a bubble – are no different and just as exposed as the rest of us.
Their bubble is no protection to a virus that seems to know no bounds. They harbour the same fears we all do at this present time. They are human, too.
Aaron Cresswell the father, not the footballer, has spoken candidly of the fear he feels for his family and in particular for his new born baby girl. "I've got a five week old baby and I'm petrified," admits Cresswell.
Who wouldn't be in his position? Aaron's understandable concern for his family forms part of a wider picture around football's part in this health emergency. What appears to be the current obsession of the football authorities, hell bent on concluding a season left hanging in limbo, at almost any cost, has to be called into question.
We all know why. It centres around the astronomical sums of money the game's administrators have generated and gleefully accepted, which could now come back to bite them big time, should the season finish without another ball being kicked.
Continuing social gathering concerns would appear to rule out a resumption in the normal way – so games going ahead behind closed doors is one option being floated. But has anyone asked the players how they would feel about that?
Being forced back into action, while the rest of the population continue with restrictions. By the very nature of the game coming into close contact with others while the virus is still actively doing its dirty work. And we have been told by the experts that is likely to continue for months, not weeks.
Cresswell was right to add: "The most important thing is everyone's health and well being. Football can wait. Of course we're all missing it – but there's a whole bigger picture than a game of football. There's talk of playing behind closed doors – but I hope the players are respected as much as the public are."
Televised games, even without fans, will involve an army of people – media, technicians, medical staff, officials as well as the players themselves – every one of them with the potential to pass this virus on.
For footballers like Aaron Cresswell, who have, and continue to dutifully preserve the safety of his family, the fear that all that sacrifice could itself be sacrificed in the pursuit of money. Is that worth the risk – just to play a game?
Not in my book.