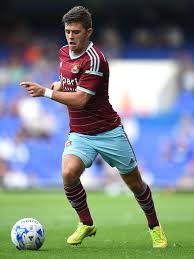 Aaron Cresswell looks set to take his place in the Irons team for the next Thursday evening's Europa Cup clash against NK Domzale.
We have received an early report from Austria that although there's a chance the medical team may play it safe and let him fully recover from the wicked lunge he suffered towards the end of today's match against Karlsruher the early view is that he should be ok.
The Hammers players were enraged by the two footed luge on the left back which left him on the ground for a lengthy period before he rose gingerly  and walked away from the action near the end.
Reports were sent after the match by a European based South American journalist who was at the game visiting his Austrian TV presenter girlfriend.
Although the injury is reported to be "very painful" early examinations appear to show no serious damage and as things stand he appears fit to play.
However, the medics will monitor the situation over the next couple of days before making a decision on the player's involvement.