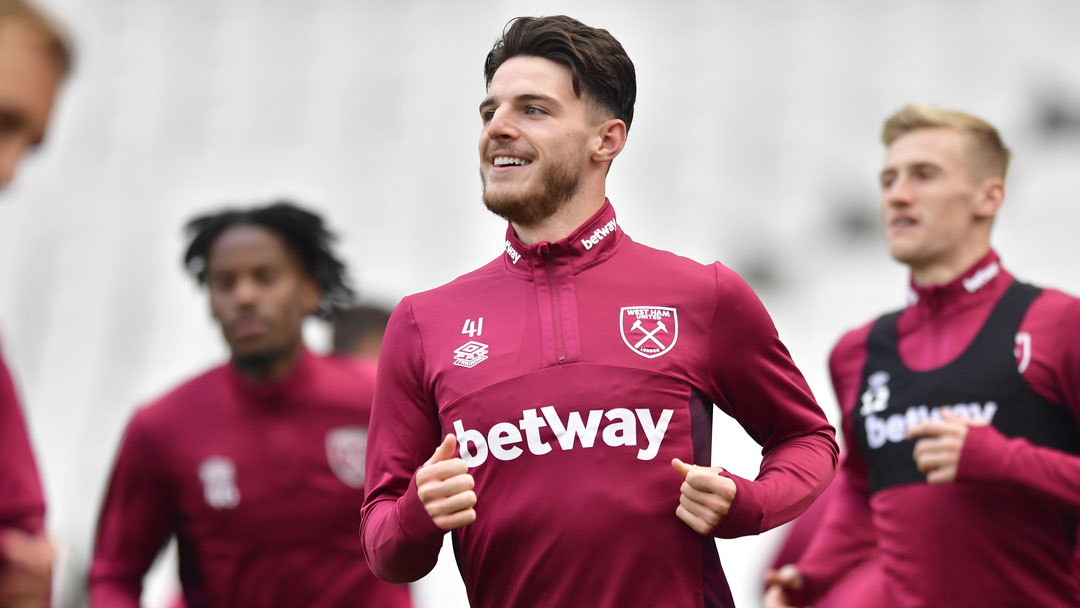 By Hughie Southon
Declan Rice isn't fazed at the number of games he is playing.
The captain is of course pivotal and as captain he regularly sets the on-field example setting his sights as high as it gets.
And he could reach another landmark this evening should he lead the team out at Anderlecht in an incredib;y important Conference game in Belgium
For this will be the young man's 60th match in the last calendar year – a phenomenal achievement although he sees it as nothing less than the highest honour.
The official Hammers site also records that since returning to action after the COVID-enforced break in the summer of 2020, that such are the demands of international footballers that he has played a total of 122 times for West Ham and England since September 2020.
And talking to www.whufc.com he explained how he feels as ne continues through his marathon journey at club and Three Lions level.
He said: "Obviously, last year Nobes was Club captain and I was the on-field captain, in a way, but this year I've got full responsibility and to be back in Europe is key again for the lads and for the Club. It's a real honour.
" I think it took me a couple of games to get going. I feel like I'm starting to find my form again. Obviously, we had so many games last season and we have so many games now leading up to the World Cup, so I need to I need to pace myself in a way so I'm not going to get injured or I'm not going to break down.
But I'm feeling really good. Me and manager have a great relationship, and I'm ready to play and give 100% every time I pull on the shirt.
"I worked out last year, from June to June, I played 68 games in a year, so that's an obscene amount of games. You've got to stay fit, you've got to eat the right things and your nutrition has to be good, you have to be spot on throughout the whole year.
Of course, at some point it might take its toll but then it's down to you as the player to find that balance and to get back on track, and I feel like I'm starting to do that again now.
I'm starting to feel good again feel sharp, so hopefully I can keep keep pushing, and as a team now we can keep kicking on in the league and in Europe as well."