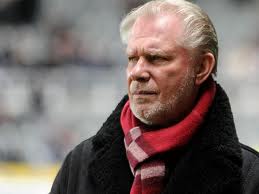 By Hugh Southon
David Gold has spoken for the first time of the agonies he suffered as West Ham United looked to be slipping back to the Championship during one of the bleakest Boleyn mid winters ever!
And in the first part of a major exclusive with Claretandhugh the club's co-owner explains how he lay awake in the small hours wondering when one of the most miserable journeys of his footballing life would ever  end.
We will bring the second part later this week but his opening remark was straightforward and straight to the point: "I feel as though I've been to hell and back and I have suffered many many sleepless nights.
"I have laid in my bed in the small hours staring at the ceiling considering the consequences for our great club and our fantastic fans. It was hard, very hard."
But DG made it clear again that despite the twitter uproar calling for the head of Sam Allardyce that was never on the agenda.
He doesn't believe he should discuss his and David Sullivan's decision to stand by their manager – that, he rightly declares, "is for other people to take a view on."
But he admitted with great force: "There was so much talk about Sam losing the dressing room and all the rest of it but it simply wasn't true.
"You lose the dressing room and the trust and respect of players when you lose confidence in yourself and trust me, that is not part of Sam's psyche.
"He is a man with tremendous self belief – that can stray into and touch on arrogance but that's usually the way with men who believe in themselves and the way they do things.
"I was and am with Sam every day and know how he works.  I saw nothing in his character changing during those terrible days. He was utterly convinced we'd be okay when we got the injured players back
"But whatever we did, things kept on going against us, the injuries were horrendous and my first stop after every match was Andy Rolls our head of medical science.
"How could any of it be Sam's fault. Players were going down like ninepins, we were having some terrible decisions go against us – such as the penalty that never was up at Hull.
"Then James Tomkins, received two yellow cards, Kevin Nolan received two reds in moments of total madness and then came the Andy Carroll sending off.
"How could anyone believe that any of that was the manager's fault. All I saw was a steely resilience in the man and an utter determination to get it right. Now we are on the way back and are looking up at last.
"Others can make up their own minds whether we made the right decision or not – it's not our place to say!
But I can tell you one thing – I'm sleeping well once again!"
In the second part of his interview later this week DG talks of his hopes for the rest of the season and next year plus his personal destiny, the various managers he's employed and where Sam stands amongst them! Don't miss it.
Follow me on twitter for all the latest Hammers news @hughsouthon