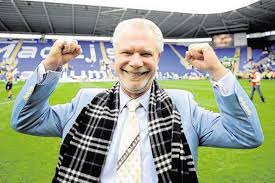 David Gold has hailed tomorrow evening (Thurs) as a massive moment for the co owners and fans – particularly those who have never enjoyed a European night under the Boleyn lights.
And although Lusiantos are hardly the strongest opposition in the world he believes a sell-out crowd is a triumph of hope and optimism for the West Ham faithful.
He said:"It's a fantastic moment particularly for all of those youngsters and other fans who have never been here before. It's a special moment for David and myself as we have never been involved in European football. It will be a special night for us both.
"The fans have clearly made this an even by snapping up every ticket. There really is a new air around the club and we are looking to get a big result.
"Although Lusiantos are hardly a world power we will treat them with respect as they will want to make an impression on what they will see as very big opposition."
Looking ahead to the Premier League campaign he said:"I believe West Ham are at the start of something very big – we want the big five looking over their shoulders and saying: "Watch it West Ham are coming for us."