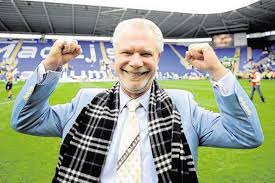 David Gold insists that the Hammers aren't yet finished in the transfer market as the club continues with one of its busiest summers of recent years.
DG and co owner David Sullivan have said since the start of the summer that the plan this year is to put the pressure on all positions.
And he told ClaretandHugh exclusively: "Nothing has changed – everybody is working very hard to bring in more players.
"The main objective was always another striker and we have pushed the boat out for Enner Valencia so there can be no complaints on that score.
"The other three signings have also been very good but we would hope that more are on the way.
"The plan this summer was always to carry as many positions as possible but we have also managed a marquee signing along the way so no complaints so far."
Indeed not, for a ClaretandHugh exclsuive poll last week showed that over 90 per cent of those who voted are more than content with what they have seen."
Gold said that with the main signings on board the remainder would be loans and cheaper options – as revealed by ClaretandHugh.
Currently on tour with the Hammers squad in New Zealand Gold has been tweeting regularly but added in an exclusive interview with us said: "I believe we have had a very good summer window.
"We are starting to see a squad develop with real depth but there's still a way to go. We aren't done yet!"
The work permit hearing for Valencia will be held when the squad return from New Zealand with Sam Allardyce pleadting the club's case.