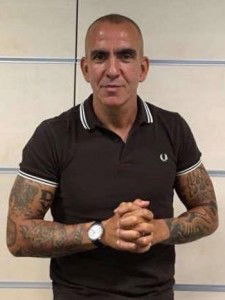 Paolo Di Canio has called for unity with his fellow West Ham United supporters during an interview with talkSPORT.
Speaking to former Hammer and talkSPORT presenter Trevor Sinclair, the Italian's showed his love for West Ham , a team  he played for 141 times between January 1999 and May 2003 .
"We need to be a unit," said Di Canio, speaking by phone from his home in Italy "It's obvious that everybody expected a better season – the Board didn't want to see West Ham there, and also [nor did] the fans. I can understand the frustration but now is the moment, I hope, when the season starts again, to get close, because everybody loses if West Ham go down.
"So, the frustration is OK, but it is not the moment of the polemical in my opinion, but to push all in the same way to maintain and to save West Ham, because West Ham has got incredible quality and incredible potential for the future to finish in the top eight.
"The Club obviously spent big money in the last two years. It didn't pay, unfortunately at the moment, because we had many problems, but the future will be green in my opinion.
"So, the moment is to stay united and stay together."
The loveable West Ham hero accumulated 47 goals in the three-and-a-half years he spent in Claret and Blue, a goal-return that leaves him top of the table. t's quite possibly the best goal West Ham have ever scored.
Paolo's spellbinding volley against Wimbledon won BBC Goal of the Season and is still regarded as one of the best goals in Premier League history.
Martin Tyler's famous line of "I do not believe that, that is sensational!" rather sums up what everyone thought of the outstanding strike.