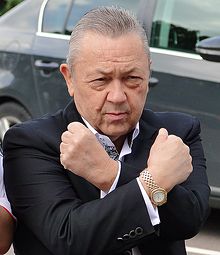 It's  impossible to be critical of David Sullivan after last season's incredible success in the summer transfer market.
By common consent across the whole of the fan base, we made a series of brilliant signings – not one of which failed to do the business whenever they were called upon.
Every one of them surpassed all expecations.
So far this term we have made a couple of free signings and the co chairman has made it clear on the official site he will feel better when he has the much sought after striker on board.
We at Claret and Hugh have never made any secret of the fact that we are big fans of David's. He has never been anything other than courteous and  helpful when we have requested interviews and it is refreshing to have such an accessible man at the helm.
He is not one to have regrets or look backwards but maybe he is sufering a little in negotiations for that striker after  declaring very early on the amount of money he was ready to spend on a front man.
Alexandre Lacazette's price is now being quoted at £40 million and maybe clubs in the Hammers  market place believe we have far more than the £25 million set aside.
I am convinced will we get a top striker but I felt at the time it was untypical of DS to let the £25 million cat put of the bag.
Onwards and upwards and like DS we too look forward to seeing a photo of a top striker holding a claret and blue scarf over his head on the official website!
COYI