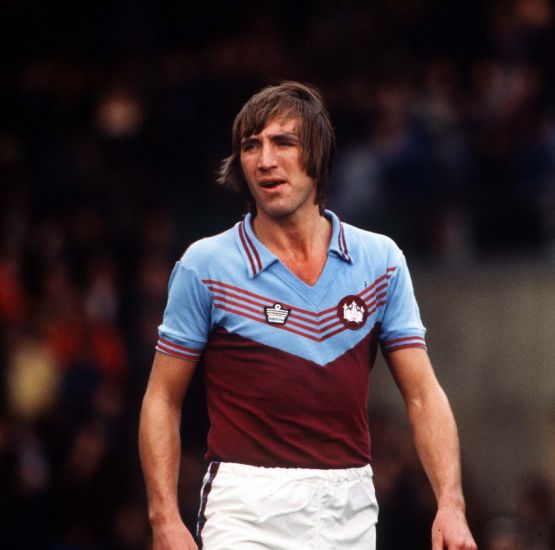 HAMMERS HERO AND FORMER MANAGER BILL BONDS – IN ANOTHER CLARETANDHUGH EXCLUSIVE – GIVES HIS THOUGHTS ON THE NEWS THAT SAM ALLARDYCE WILL TAKE THE CLUB INTO THE NEW SEASON.
By Hugh Southon 
Bill Bonds believes West Ham fans have some interesting days ahead as Sam Allardyce and the board launch  their "New Approach" at Upton Park.
Bonds – a Hammers legend – claims that Allardyce must have been happy with the new arrangement because "this is a man  you don't push around."
However, he added: "I don't think it is going to be easy to change things  as quickly as everybody might like…you just can't go from one style of football to another at the drop of a hat."
Bonzo, however, is particularly interested – like most of us – in the decision to appoint an attacking coach, seen as a key move in the new approach.
He said: "As I understand that and the decision to being in flair players is the real issue to interest the fans.
"Sam must be happy but I believe he will be the man who makes the appointment on the attacking  coach!
"As for flair players, they cost big money so the board is going to have to find plenty if that's the way we are heading – no doubt about that."
Bonds made it clear he would never have a go at the manager because he has done precisely what was asked of him.
He said: "I don't see how anyone can have a pop because he was told to keep the club up. If that's the requirement he has succeeded. Sam is the first stop when that's the issue.
"I'm sure Fulham or Cardiff for example would have loved to have had him in charge at their place."
Billy laughed when asked whether Allardyce had a chance of winning over the fans who have protested long and hard against his mere presence at the clubs.
He said: "Who knows but let's be honest about it. If we go out and win the first half a dozen games next season Sam will be the best manager on earth whatever football he's playing won't he?
"There are fans who remember Bobby Moore, Alan Devonshire, Martin Peters and all the rest who came through the club and became better and better players.
"Arsene Wenger hinted at that the other day when saying the job of a club is to improve youngsters technically and it's impossible to disagree.
"But the fact remains that the game now is all about staying in the Premier League and that's how the younger fans will see it.
"I suppose it's fair to say that had the club today wanted to change to a real attacking policy they would called time on Sam Allardyce and brought in an attacking manager.
"So I for one will be watching how things work out under this new arrangement – there's interesting times ahead."
Follow on twitter @hughsouthon