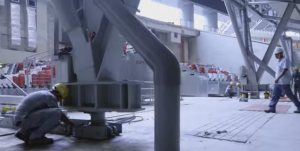 With just 16 days before the first West Ham match on August 4 at our new home ClaretandHugh can exclusively reveal a solution to fix the London Stadium retractable seating is very near.
The good news is the new 20,000 capacity East End stand is already in football mode and will not move back for this weekend's Anniversary games athletics meeting over Friday to Sunday.
On the following Monday , a new air skate system will be deployed to move the remaining three stands into football mode. The new air skate is similar as the one successfully used by Stade du France and more recently on the Singapore Sports Hub Arena designed by Arup engineering.
A combination of manpower and 'air skates' (which carry the seating on a base injected with compressed air) will put the retractable seating sections into place. This will replace the previously flawed wheel and motor designed by Alto Seating which went into administration last year.
The £17m retractable seating has been plagued with delays and engineering challenges but we are told it is expected that a reduction in turnround from 11 to seven days between athletics and football is now expected.
A source close to the stadium transformation revealed that that the operators expect all stands to be in full football mode by the evening of Thursday August 4 but as a precaution the club decided not to sell more than the 54,000 capacity listed on the current safety certificate and season tickets in the lower West, South and North stands will not be sold until they are sure the new system works.
The video below shows how it all works