West Ham's vote of confidence in Slaven Bilic after the fourth defeat on the trot has been received with mixed feelings by Irons fans.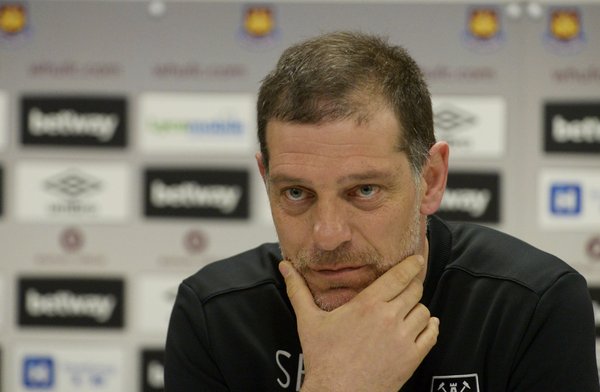 O I was at the game yesterday. Another spineless, gutless performance. We need someone to give players a rocket. We need to get angry and show some passion. Something which is sadly missing.
O If you think your gonna become a regular top ten side with the "club record fee" of £20 million  You can't get Harrords quality at primark prices!
O What  worries me about Slav are the type of players he goes for. Or was it a case of the board offering him these players before he said yes cause they were the best that was offered? Snodgrass was a pointless buy and especially as he was the incoming midfielder for Payet. Would sell him asap!!!
O Put the club up for sale and see what happens. Must be one of the most exciting projects in Europe. I cannot see how the current owners can take us any further – I really can't
O Hope I'm wrong but can see it being a very crucial end of season game against Burnley. Cause I think one of us will be going down. Hope I'm wrong.
O Must mean they haven't lined anyone suitable up then. Gotta question the defensive approach we have surely the board can see that our mistakes weaknesses are always the same and never resolved? SB's had several windows now to recruit suitable players and all we have is disjointed performances with no fluency or solidarity.
O We're going to have the biggest stadium in the Championship.
O Ah, the dreaded vote of confidence. He'll be sacked if we lose the next two.
Martin Pacetti. Lose the next two and this time next week we could possibly be on the same points as Swansea and Hull depending on their midweek results.
O The dreaded vote of confidence, the start of the end.
O I cant see why people want the Board out.They did try and spend a lot of money in the last close season such as the Batshuayi  who chose Chelsea.
O Living in Swansea, and knowing many of their fans and our record at the OS, I've been saying I'm extremely fearful for that game, nothing would surprise me!
🙁

– please turn it around by then!
O Our problem is that we seem to have no interest in killing games. We just continue trying to score which is nice and all, but it causes us to just concede silly goals. Nobody really know who signed which players so it's not really fair to comment on it.
OWhy is Slav the right person- a passionate manager who kicks microphones but tactically clueless I keep hearing he's a legend – played one season for us and left for Everton.
O If that's the case, why do the board put him under more unnecessary pressure by putting out a statement a few games ago saying performances were not good enough and must improve? (Which we all knew anyway)
O The vote of confidence that preceds the chop…..