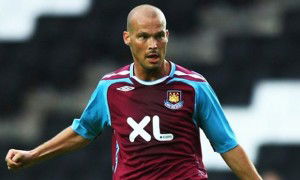 Arsenal manager Arsene Wenger has confirmed former Hammer Freddie Ljungberg is helping the club's under-15 side as he looks to qualify for his coaching badges.
According to the Press Association, Ljungberg will remain with Arsenal's under-15s until the end of the 2015-16 season. The Swede announced his excitement at the prospect of coaching at Arsenal via his official Twitter account, with Ljungberg tweeting "Hope everyone had a happy new year. Enjoying my last week in Cape Town before I go home to coach Arsenals u-15! V excited 🙂 Arsenal"
Ljungberg joined West Ham in July 2007 on a four year contract after nine years at Arsenal but West Ham and Ljungberg agreed to terminate his contract by mutual consent just one year  later. At the time, the 31 year old Ljungberg said in a statement on the club's website: "I gave my all at West Ham and enjoyed my time there but the decision is the best for the both of us. Now I will take my time to consider my football future."  He made 25 league appearances during his only year at West Ham, scoring twice.
He was rumoured to have been on a wage of £85,000-a-week for his four-year contract at West Ham. Reports at the time claimed that Ljungberg received a one-off payment of £6 million for his early departure.  The club's financial accounts of that year wrote about Kieron Dyer and Freddie Ljungberg: "Two players who signed in the summer 2007 transfer window, one of whom has since left the club, have started a combined total of 32 games and will have cost the group £34m over the term of their contracts."