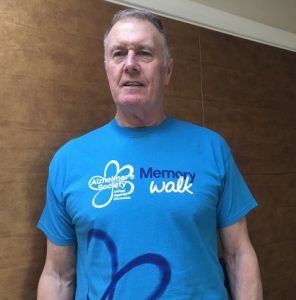 West Ham and England football legend Sir Geoff Hurst is joining forces with Alzheimer's Society to tackle dementia in support of his fellow 1966 World Cup heroes who are living with the condition.
Sir Geoff has pledged his backing for Memory Walk, Alzheimer's Society's flagship fundraising event which is taking place across England, Wales and Northern Ireland this autumn, in honour of former team-mates Martin Peters but also Ray Wilson and Nobby Stiles and their families.
"It is very very difficult, whether he would recognise me or know me," Hurst told Press Association Sport when asked whether he or others had tried to maintain a friendship with Martin Peters.
"We have discussed it with his wife and family, and we have left it that we would not get involved, apart from my wife talking to his wife, and I think she appreciates that, to have someone she can talk to and discuss how Martin is"
The former West Ham striker has teamed up with the UK's leading dementia charity to appeal for people to take part in the 34 flagship walks – including the first night walks in London, Liverpool and Cardiff – which will raise vital funds to improve care, fund research and create lasting change for people affected by dementia.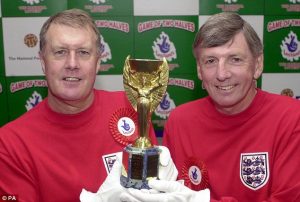 The 75-year-old is also gearing up for his local Memory Walk which will take place at Cheltenham's Pittville Park, on Sunday, October 8 (11am).
He will be officially opening the event before embarking on a three-kilometre walk alongside hundreds of families who will be among up to 110,000 walkers striving to help raise £9 million  for people affected by dementia.
Sir Geoff, who recently led the Alzheimer's Society United Against Dementia campaign with fellow England icon Gordon Banks, said:
"The fight against dementia is a cause that is very close to my heart and I wanted to do my bit to support people affected by the condition like Martin, Ray and Nobby by raising funds through events such as Memory Walk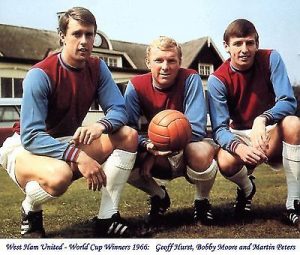 "We were always there for each other when we were England team-mates and I will always be there for them and their families now as they live with dementia."
Sir Geoff added: "I have done my own little practice walk and I'm raring to go on what I am sure will be a very emotional occasion. It will mean a lot to me because even though none of my family members are living with dementia, people like Ray, Nobby and, especially Martin, are like family to me. I am keen to help because we had a special relationship that will always remain special because of what we achieved as a group of people.
"That was down to our camaraderie and I hope that people across the country will embrace that team spirit and come out in force to show they care about people living with dementia as well.I'm no medical expert but I am confident that Memory Walk will not only help raise awareness of a terrible condition, but that the money raised will improve services in our communities and edge us closer to achieving the ultimate goal of finding a cure for dementia."
"I'm no medical expert but I am confident that Memory Walk will not only help raise awareness of a terrible condition, but that the money raised will improve services in our communities and edge us closer to achieving the ultimate goal of finding a cure for dementia."