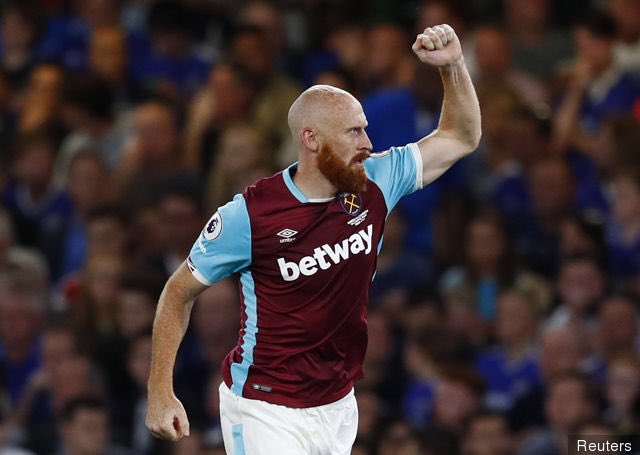 James Collins has been talking of the special bond between himself and the Irons faithful and declares: "I came here as a 21-year-old I think and, from day one, I seem to have clicked with the fans."
Since his return to the side the Hammers have looked an entirely different kettle of fish defensively but The Ginger Pele says:  "I've never made any bones about it, I'm probably not the best footballer on the floor to have graced the Premier League but I take pride in defending and giving my all. The West Ham fans have grown to love that.
In an interview with The Sun he said: "I have an affiliation with the area and the people and they've been unbelievable to me over the years.
"I met my wife here and lived in Chigwell. She worked in Starbucks and I used to pop in most days for a coffee and we got talking and then started going out.
"She is a West Ham fan although she never even knew I was a footballer at first. Some fan, eh?!
"But to be honest, I'd hardly played when I first met her. All her family are West Ham, too, and it was the same.
"It only really clicked with them when they actually came to a game and watched me play."
Collins' briefly left the club when joining Aston Villa but returned in 2012 to continue his love affair with the club.
And he said: "There is one thing that always sticks in my mind regarding the supporters — I can't even remember if I was at West Ham or Villa but I went to Stoke to watch West Ham and sat in the away end.
"I think it struck a chord with them because I was one of them for a day, which I was really proud of.
"They have been so good to me over the years that I want to go out and do well for them and give something back in every match."
If passion can be translated into results the Hammers are home and dry tonight.