West Ham co-chairman David Gold has confirmed the Hammers are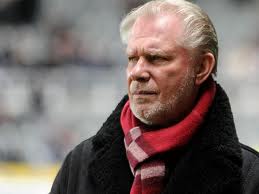 heading down the legal route in their bid to have Andy Carroll on the field this weekend.
We have brought you regular updates on the situation over the past 48 hours revealing the club would go to law.
Now, in his first public announcement on the situation, Gold declared: "There is nowhere to go other than to seek some kind of legal redress."
 "We are hugely disappointed at the outcome of the process. The last thing I want to do is going to some kind of legal issue because I think it is a footballing issue.
"But we are fighting for our lives. If we were mid-table we would probably get on with it but we are fighting for our lives to retain our Premier League status and we owe it to our fans, we owe it to ourselves.
"We are upset, we feel we have been badly treated. Most judgements are not made by three people, they are made by twelve – that's why they are called juries.
"I believe if you had gone to the FA Council and asked the 100 members 75% would have said it was not a sending off, but if you just take three people it may not be representative."
The FA has refused to comment on the latest development but the rules allow clubs to take disputes to arbitration and if necessary to the Court of Arbitration for Sport.