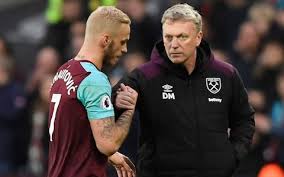 Manager David Moyes has revealed that West Ham players have been supplied with hand gel in their cars and agreed not to shake hands at the training ground to prevent the possible transmission of Coronavirus.
Asked by reporters at Rush Green whether West Ham were taking any special measures over Coronavirus the manager replied "Our medical team, we had a discussion. Took the decision to supply all our players with hand gel, which they carry in all their cars and travel with them as well. As often as they possibly can they use it to keep their hands clean. This is the advice we've gotten from our medical team. Also in the building, we've agreed on no shaking hands at the moment. We're all happy with that."
London Stadium owners LLDC have yet to announce if they are taking any special precautions for the London Stadium in advance of Southampton's visit on Saturday. Crystal Palace has ordered a deep clean of Selhurst Park and have installed hand sanitisers and posters reminding supporters to wash their hands to prevent infection.