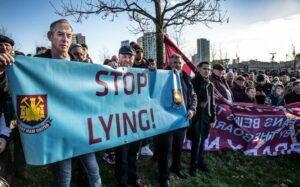 David Moyes was frustrated when he was asked about the West Ham protests planned for Saturday.
The manager told reporters assembled at Rush Green this afternoon "I'm getting asked this question every week now. I keep saying this: the best chance for this team and this club to win is for everyone to be together, positive in the stadium and support the team. We need it. We need decisions to go for us as well. We need to be strong. My message is positive, be with the team. Stick with the team because the team needs you badly." 
Hammers United Joint secretary Stephen Cross has penned an article for the Guardian ahead of tomorrow's Green stroll protest. The full article which can be found at https://www.theguardian.com/football/2020/feb/28/why-west-ham-fans-are-protesting-against-board-saturday  sets outs the reasons why the supporters' group is protesting tomorrow.
Meanwhile Villa fan and Telegraph journalist Matt Law has written another piece in the Telegraph after speaking Hammers United chairman Paul Colborne and WHUISA chair Sue Watson.
It starts "The supporters group responsible for the protests against West Ham United co-owners David Sullivan and David Gold, and vice-chairman Karren Brady, hope over 5,000 people will attend Saturday's 'stroll' towards the London Stadium ahead of the vital game against Southampton. This is the third protest organised by Hammers United, who have a membership of 12,000, and it is anticipated to be the largest so far with fans flying in from Italy, Finland and Malta.
It is backed by the West Ham United Independent Supporters Association, which has a 4,000 membership, and there is already a further protest being planned by Hammers United to take place ahead of the Wolverhampton Wanderers home game on March 15th"