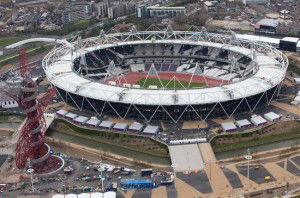 It now appears West Ham can veto Spurs from ground sharing with them in the Olympic Stadium but for one season only! The clause in the contract is thought to have been included to protect the Hammers in their maiden season in their new home.
However, after that first season West Ham do not have a say. In reality this should not be a problem as Spurs only need a home for the 2016/2017 season. It is understood there has no approach what so ever to LLDC or E20 to use the Olympic Stadium for one year so the speculation appears to have been whipped up by the media during the International break.
Claret and Hugh understand that Spurs would have similar problems if they wanted to hire Wembley Stadium, Brent council limit the number of events to 37 per year in an agreement with local residents. Spurs would not be able to schedule in their 19 home fixtures along side other scheduled events at Wembley.
It is looking increasingly likely that Spurs will move to the MK stadium with some suggesting there is a pre contract in place already. It will give a whole new meaning to a London derby with their ground 50 miles away from their existing one.