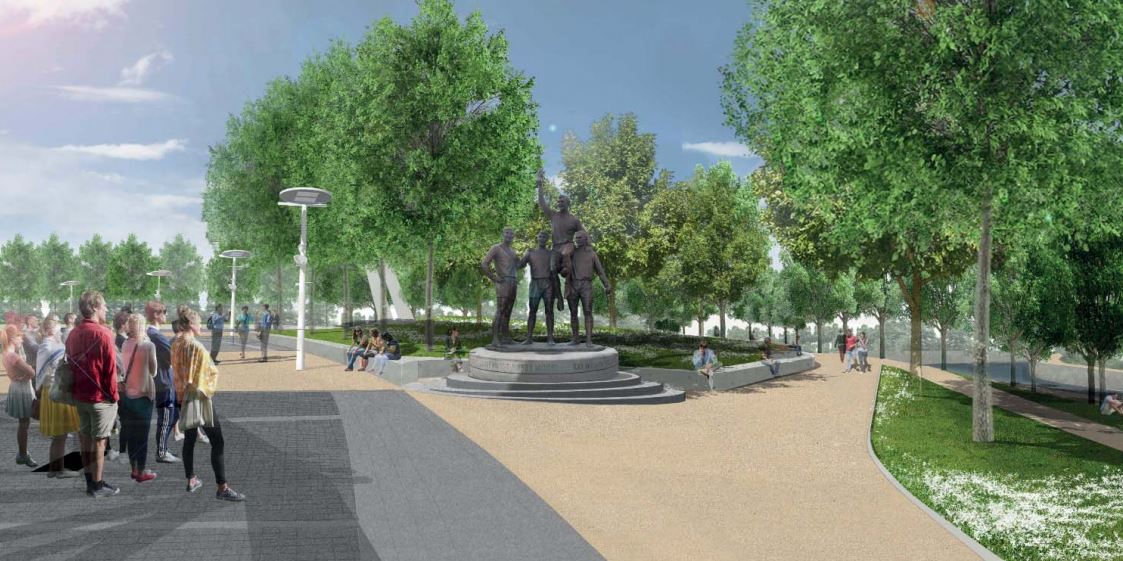 West Ham have confirmed that a new statue paying tribute to Bobby Moore, Geoff Hurst and Martin Peters and the Club's 1965 European Cup Winners' Cup victory will be unveiled at London Stadium later this year – with supporters now given the opportunity to vote on its formal title.
The date of the statue's official unveiling will be confirmed once more is known around the lifting of restrictions and the capacity for family members, special guests and supporters to attend, with the Club wanting to ensure visiting the statue in person can happen as soon as it is installed. Please look out for further details here or on whufc.com in due course.
The bronze sculpture, which will be located at Champions Place on the north-east corner of the stadium, was commissioned last year as part of the Club's 125th anniversary celebrations.
After it was decided that the original Champions' Statue would remain at the junction of Barking Road and Green Street, adjacent to our former home at the Boleyn Ground, it was the Club's immediate intention to commission and fund a new statue.
Continued supporter consultation and feedback in more recent times, including from the Independent Supporters' Committee, provided a clear and widespread view from the start of the process that any design should focus on our three golden greats of the 60s – Moore, Hurst and Peters, who all came through the famous Academy of Football to reach the very pinnacle of the game in 1966, when they led England to World Cup Final glory against West Germany at Wembley.
The names of the full triumphant team, as well as manager Ron Greenwood, will also be immortalised on the plinth of the statue to truly capture a collective and historic success.
The design of the statue itself has also been finalised, with the full involvement and input throughout the entire process of Sir Geoff Hurst, Roberta Moore – daughter of Bobby – and Martin Peters' wife Kathy.
Both Sir Geoff and Roberta recently took part in an online discussion, hosted by long-standing Evening Standard football correspondent Ken Dyer, which includes their views on the final list of potential titles after the families had shortlisted a wider number of options created in consultation with the ISC, as well as their involvement throughout the design process and the excitement building ahead of the grand unveiling later this year.
Hammers fans can now take part in a vote to decide the formal title of the statue, choosing from the following five potential titles:
West Ham United's European Champions
West Ham United's 1965 ECWC Winners
West Ham United Champions
Our Greatest Champions
West Ham United's Legendary Sons
To place your vote, please submit your choice below. The deadline for voting is 5pm on Tuesday 29 June.
Vote for the title of our new statue paying tribute to Bobby Moore, Geoff Hurst, Martin Peters and our 1965 European Cup WInners' Cup victory | West Ham United (whufc.com)