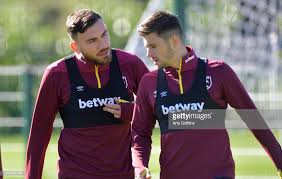 Aaron Cresswell has take a lighthearted dig at his Hammers mate Robert Snodgrass and his apparent attempts to become teacher David Moyes' pet.
The Hammers left back was yesterday quoted as admitting he is terrified of the current situation given that he has a new baby in the house.
And he eplained that there's no rush for anybody to get back to football until the situation is entirely safe to do so …and quite right too.
But in the same interview he shows he hasn't lost his sense of humour as he takes a swing at Snoddy admitting too that he misses being around him and his other big pal in the squad skipper Nobes.
As we know the players are currently training alone as they keep their fitness levels up to as near peak as possible but Cress explains too that the manager is in ouch with each of them daily explaining that he is not letting up.
And that may have led Snoddy into going even further in trying to keep in favour with the boss.
Commenting at      he said: " The lads are all missing football and missing being around each other. I'm missing Nobes and Snods especially, as we've got a great bond, as have a lot of the other lads.
"Nobes and I have been on Snods, to be honest. He normally loves dishing it out, but he has been posting his workouts on his social media and it's all so obvious.
I didn't think a 39-year-old would need to go on social media to show the manager he has been doing his work, but there you go!
"He still feels he has to put it out there on his Instagram. It's painful."