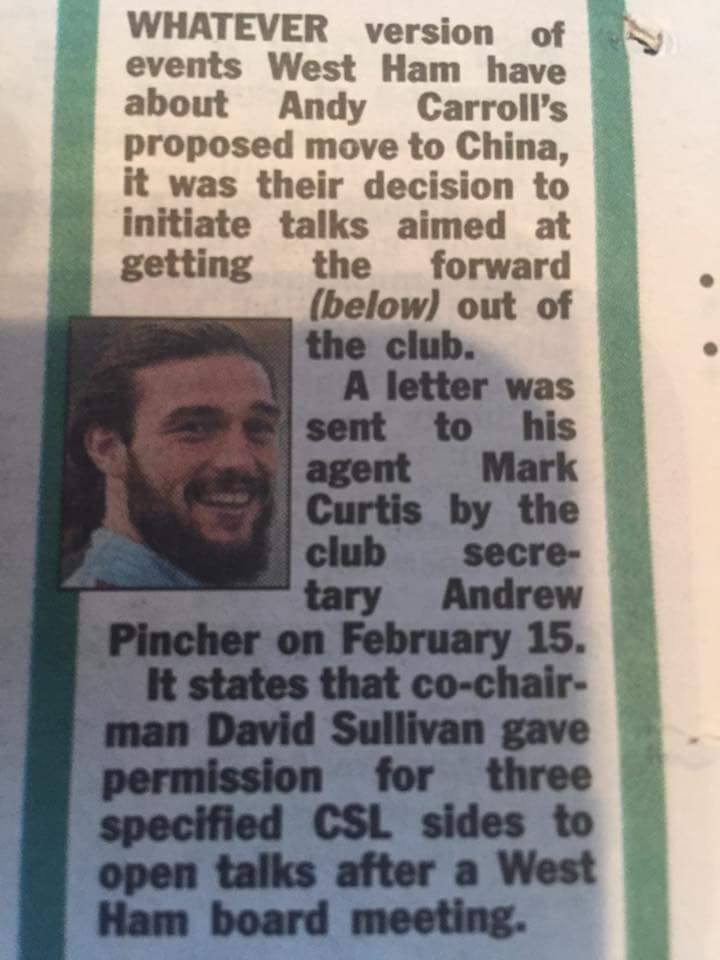 Claims that West Ham initiated talks to sell Andy Carroll to China have proved to be false!
ClaretandHugh has established an important fact failure in the story, first published by The Sun, which confirms Slaven Bilic's account that the club had no wish to sell AC and that the Chinese had approached the Irons
The story claimed that Hammers co chairman David Sullivan gave permission for Carroll to be sold and as a result club secretary Andrew Pincher sent a letter to agent Mark Curtis (see graphic above).
However, ClaretandHugh has now discovered that could simply not have happened because Curtis no longer represents the striker  following an alleged fall-out.
After the story gathered legs with the rest of the media, Bilic made it clear the Chinese looked oat several Irons players and "fell in love" with Carroll.
A club source told us when we checked earlier today: "No, Andy is not with Mark Curtis any longer – he is represented by David Manasseh.
"We did not initiate any action to sell Andy. As explained by the manager on Friday, there was a very tenuous approach from the Chinese but it was never going anywhere because we needed him."