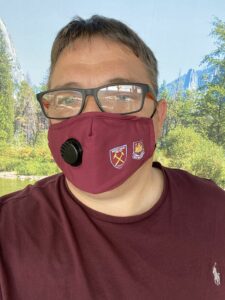 By Sean Whetstone
A few people have asked me where I got my West Ham Face Mask from and Hugh insisted that I write a Blue Peter style blog to explain so here we go.
I purchased a Claret face mask with a filter from eBay for £7.99 They are listed as burgundy but other sellers have Claret or Burgundy masks listed.
I bought mine from this UK seller here while stocks last.
I then added on the new and old West Ham crests myself. I used this image from the Official  West Ham website
I purchase some Inkjet Transfer Paper and printed out the images and then simply Ironed them on.
You can buy 20 sheets of that special Transfer paper from Amazon for £8.99 but you might get it cheaper elsewhere. You only need one sheet really. I bought mine from Amazon here
There you go, that's how I made my Hammers Face Mask in a very Blue Peter style.
Perhaps there is a small business to make these en masse and sell them online, just a thought!