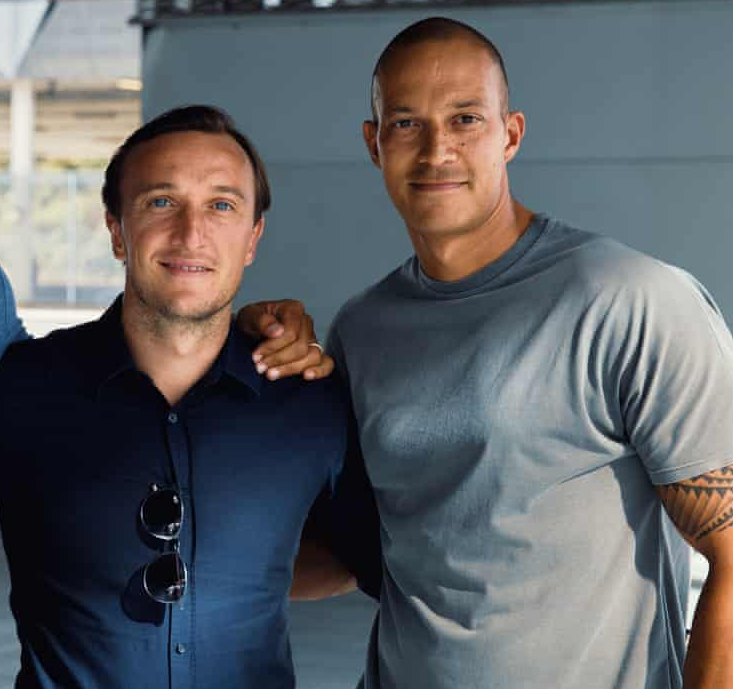 West Ham captain Mark Noble and former Hammer Bobby Zamora plan to build a property development in Brighton, Sussex.
Zamora, a director of property developer Luna Group, hopes to build 126 flats up to 11 storeys high in Wellington Road and Camden Street, close to Shoreham Harbour. His fellow Luna Group directors include West Ham skipper Mark Noble who played alongside Zamora for four years at the London club.
But Labour councillor Les Hamilton wants a red card shown to their plans, dismissing them as an overdevelopment which would be too tall and which would include too few parking spaces.
Luna Group has applied for planning permission for land that includes the old Flexer Sacks factory and the site where the troubled Harbour View pub once stood.
The pub, previously the Alexandra, was demolished in 2015 after losing its licence as a result of drunkenness, drug use and sexual assaults at the premises.
The site as a whole is currently occupied by the Circle Studios, the Underground Gym, a hand car wash and a parking deck.
If the plans are approved, the proposed 11-storey block would go up on the corner site where car wash is based. The block would contain offices and 65 flats – 31 of which would be one-bed homes. The phase 2 and 3 plans include neighbouring blocks that would be nine and seven storeys high, containing 71 homes and space for more offices and leisure use.
The site is yards from where the council granted its own joint venture developer planning permission in 2019 for a £20 million scheme to build flats up to seven storeys high.
Luna Group said that the scheme had the potential to regenerate the area with well-designed buildings and adaptable floor space.
The company said in a planning statement: "The development delivers a significant number of new homes to help meet (the council's) identified need."
Five people have sent letters of objection to the council, raising concerns about parking, noise, traffic and overdevelopment.
The council's Planning Committee is due to decide whether to grant planning permission for the scheme at a virtual meeting starting at 2 pm next Wednesday.