The West Ham Under 21 Development squad will play Athletic Bilbao at the Boleyn Ground with a 7pm kick off.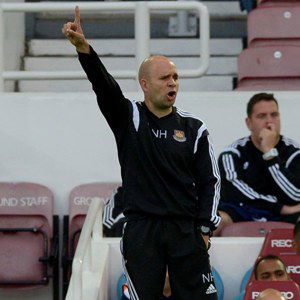 The Premier League International Cup is a new competition introduced this season which will also see the West Ham youngsters take on Dutch giants PSV and fellow Londoners Fulham in the group stage. At one stage, it appeared that UEFA regulations may force the tournament to be cancelled, but it will now go ahead with all matches behind held in England.
Under 21 manager Nick Haycock said:
"They'll be a technical team, I've been out to Bilbao on a study visit so I know a little bit about them. They're a fantastic football team, they've got a good reputation in Spain, a great history and a tradition of producing Basque players. They only sign Basque players which is a brave philosophy but it works. They work hard for the shirt, so it'll be a tough test but one we are looking forward to. It's a good idea from the Premier League, They've worked hard to deliver the tournament. It was a disappointment when it looked like it was off but they've changed it so all the games will be played in England. We can't have the return leg out in Bilbao or Eindhoven until UEFA rubber stamp it.  If they see the competition working well this year, which I hope they do, then they might endorse it next season. If that happens it'll be a full international competition. If you look at the Premier League now I think it's about 60 per cent foreign players now, so to play more foreign sides on a more regular basis is an excellent idea and something we are looking forward too. More important is the fact that we qualified it last season, so we deserve to be in it. It's a nice thing for the players to be involved in. It's also good for the fans and something slightly different to watch."
Admission to Wednesday's Premier League International Cup opener at the Boleyn Ground will be charged at £3 Adults/£1 Concessions and FREE to all Season Ticket Holders.