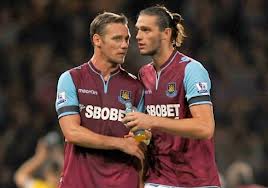 West Ham will never have a better opportunity of beating Manchester United than now – whether they do or not is as critically important  as it was 50 years ago last week!
Back in March 14 ,1964 – in the greatest game of football I've ever seen – a youthful Irons team shook United and their fans to the roots when winning Reds 3-1 in the FA Cup semi final, going on to beat Preston North End in the Final 3-2. It was totally unexpected – a footballing miracle.
A year later we won the European Cup Winners Cup as a result of that before the three most famous Irons in history won England the World Cup!
Some of us have been here before – expecting the worst and getting the best so my fingers are seriously crossed  the Irons of 2014 will make history repeat itself.
For that to happen I believe we have to break the "don't concede" mould and resulting team selections that we have seen on a regular basis this season
Our hopes will I believe, hang on the performance of Andy Carroll who comes up against a very fragile Rio Ferdinand at the heart of shaky United defence.
Were Andy to have a partner in Carlton Cole I'd be feeling pretty confident of a great result.
My fear is that instead we shall see AC on his own up front again, against a defence which everybody accepts is as frail as we've seen in United red shirts for a long time
Suspended Nemanja Vidic and injured Chris Smalling and Jonny Evans means that Rio will be playing his second game in four days – a situation not in his script these days given his wear and tear injury position.
Robin van Persie's situation seems to be improving but word out of Old Trafford this morning is he is more likely to start on the bench.
Sam Allardyce meanwhile is likely to go safety first and set up a defensively based team which can  counter via speed down the flanks and centres to Carroll whom he hopes will overwhelm the Hammers old boy.
Personally I'd love to see Pablo Armero get his first start as he is reputed to be a monster in training whose pace could seriously trouble United down that side.
David Moyes will be looking for another boost in his trouble-torn season after victory over Olympiakos in midweek .
It was a fair enough win but was heralded by a relieved Old Trafford as though the team had beaten Barcelona in the final.
Given that they play the noisy Manchester neighbours City on Tuesday evening it's going to be very interesting indeed to see what team Moyes puts out.
Either way, despite this season frailties there's plenty of pace and movement to deal with but I'm looking for those performances where the team raises its game big time.
Victory would – I believe – make us as safe as it's possible to be and give the confidence for the team to clinch their Premier League place very quickly.
I would expect James Collins to return for Winston and despite my personal hopes that Armero makes his debut, expect George McCartney to start.
I believe will line up like this: Adrian, Demel,  Tomkins, Collins, McCartney Downing, Noble, Taylor, Jarvis  Nolan, Carroll.