By Simon Leyland
What on earth are we going to do about Thilo Kehrer?
The 26 year old defender joined us from PSG for at the time a relatively cheap £10 million. The signs were there from the start – the rash tackling, the penalty against Brighton and a Mr Magoo like quality in reading the game.
Against Newcastle on Saturday he went off at half-time yesterday with a "knock". In all probability he would have been substituted anyway.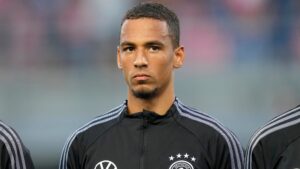 Yet again not a great game from the German as he was caught flat footed (for seemingly the umpteenth time in recent games) in the first few minutes ,when Callum Wilson was played through to put Newcastle 1-0 up.
The error strewn German`s confidence must be at an all time low. Perhaps Moyes could have one more throw of the dice by moving him into a defensive midfielder position which was his favoured role at PSG.
What is it with West Ham and playing people out of position? Remember that Arsenal game in 1995? When `Arry sent on reserve goalkeeper Les Sealey as a striker !
But then again we may have the best and only viable version of Kehrer. If so, PSG must be laughing their socks off. 10 million quids worth – indeed !