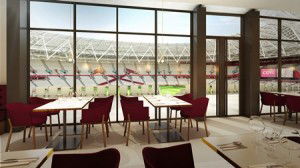 West Ham are understood to have come to an arrangement with the London Legacy Development Corporation that all their employees will receive job interviews when the club moves from Upton Park to the Olympic Stadium.
We reported last night that the stadium operator – strongly fancied to be French firm Vinci – will become responsible for virtually every area of operation at the OS.
And it is they who are set to employ staff to fill jobsin  stewarding, security, maintenance, catering roles and other areas of operation.
That had led to fears of possible job losses among the present part time and possibly full time staff but we have learned that absolutely every employee will get an interview.
We were told by a highly placed Boleyn source source: "There have been talks with the LLDC and the aim has always been to take our people with us – they will all get interviews if they want one.
"Given the size and scope of the new operation we would imagine there will be even more jobs available. We would hope to work with the stadium operator on these issues."