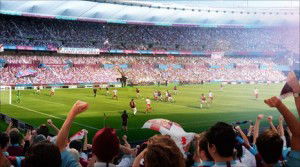 West Ham United have absolutely no intention of sharing the Olympic Stadium with Tottenham Hotspur or any other club.
Highly placed Boleyn insiders speaking exclusively to ClaretandHught this morning say the idea is a total non starter.
The possibility has been mentioned as a result having to leave White Hart Lane for a season whilst their new stadium is built.
But there is no chance at all that they will be playing their games at the Olympic Stadium.
ClaretandHugh's source reacted with horror at the suggestion saying: "We have precedence as the anchor tenants and the first season at the ground is incredibly important from many points of view.
"It's incredibly important that West Ham United and nobody else is associated with our new home.
"We would not allow it. We simply wouldn't entertain any request whatsoever. It's ours – we want it for ourselves.
"In some circumstances you may be tempted to help a Premier League club out if they are in trouble but not these.
"The Olympic Stadium is our stadium and no other club will be using it."