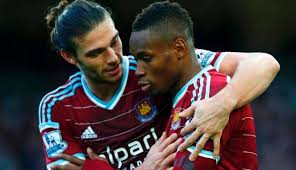 Ok, that's it – enough really is more than enough and has been for a long time!
The Andy Carroll saga goes on and on and on with a 28 year old striker – who should be approaching the peak years of his career – again injured (thigh this time apparently) and unable to lift a leg against Everton at the weekend.
It's also now accepted as a matter of course that the guy can't play three games a week although when he is available becomes the automatic choice.
Just not good enough in any shape or form and there now really is a case for taking whatever may be on offer in the transfer window and wishing him well, whether that's in the UK, Europe or China – the American set up may be made for him!
His contract is up in two years time so to pay him up and wish him all the best would cost around £8 million – pray for a buyer.
As a result Saturday's game against a team containing the awesome Roman Lukaku looks a nightmare should Diafra Sakho not be available and-  given the events of the week – you wouldn't count on it would you?
Sakho's injury issues will of course be raised but the difference is that his caused on a treatment table by some cack handed Senegal physio whilst he was on international duty.
Stupidly, he was advised by people close to him not to have surgery but now  a year or so on he has done the right thing and is now fully recovered and, assuming the manager is ready to give him his chance, will lead the attack
With no Michail Antonio  available you really begin to wonder what the hell team can possibly take the field otherwise with the barely played Jonathon Calieri and Ashley Fletcher available along with Andre Ayew. Not too encouraging that.
The Andy Carroll situation really needs to be sorted out very fast this summer given that he has managed 77 appearances in all – a figure which will include numerous sub appearances.
But the various selection issues it has raised and change in style and approach required from game to game has been a nightmare.
We need great fit players in and injury ravaged problem players out – a busy summer ahead! It's time to end this AC sicknote soap opera.