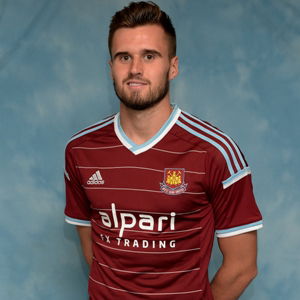 Carl Jenkinson's first interview with the official  West Ham site  was quite brilliant and was far more than a "glad to be here" …more of an "I want to stay."
Player quotes can very often be boring bland and predictable but the Arsenal right wing back – who signed a year's loan deal yesterday – seemed to be speaking deep from his heart.
Here's a sample of the quotes:
O "I'm clearly seen as a big part of things here and hopefully I can prove my worth here because it is an important year for me.
O  "In the back of my mind it was always West Ham."
O "I just can't wait to get a West Ham shirt on and get on the pitch and play. This is an exciting time for me, it really is."
O "Of course it's only a loan deal, but this Club is going in the right direction. ( reference to the new stadium).
You sense a genuine excitement here from a player who has much to give and is clearly doing a lot more than going through the motions.
You truly sense that he wants to come here and make it home and for me he may even be the most exciting addition of the summer.
Guy Demel has been a worthy warrior and but I believe the arrival of Jenks will add a new dimension to our play down the right side.
Whenever I've seen him I have been mightily impressed and believe we are at the start of something big.
With the exception perhaps of Enner Valencia, and despite the fact it's  a loan at this stage, I believe this may be the signing of the summer.
There is a buy option included and I see Jenks being around West Ham for many years to come – a top signing!