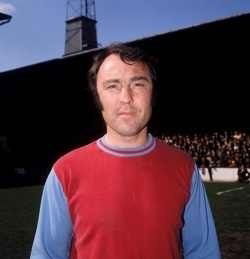 Former Hammer Jimmy Greaves has returned home after spending a week in a hospital near his home in Chelmsford.
The 80-year-old has struggled with his health since he had a stroke in 2015. He requires professional care four times a day and his nurses were concerned by his condition when they attended his home in Essex on Tuesday, April 7 and called for an ambulance which took him to hospital in nearby Chelmsford.
His son Andy has revealed that the former striker has recovered enough to return home.
He said: 'Mum was delighted to welcome Dad home last night (Tuesday) and we can't thank the doctors and nurses, and all the NHS staff who cared for him, enough.
'He hasn't been a well man for some time but the way he keeps fighting everything that comes at him continues to make us proud.
'As well as all those who have cared for Dad in the past week, and in the past five years, we would like to thank the public for their support.
'Dad has been touched by all the messages we have been able to pass on — it means a lot to him and to us as a family.'
His Agent and good friend Terry wrote on Greaves official website: "We are delighted to let you all know that Jimmy is now back at home recuperating with his wife Irene . He has been very ill and we are hoping he will be fine going forward. I've spoken with his sons and they have asked for the press to respect his and the families privacy at this emotional time and we sincerely hope there will be further good news in the weeks to come. If and when there is any more news we will let you all know. Thanks to the thousands of you that have sent goodwill messages. We love that so many of you still hold Jimmy so dear to your hearts and it's lovely to know that there is still so much love for him in the World."
While best remembered for his time at Chelsea and Spurs he joined West Ham in March 1970 as part-exchange in Martin Peters' transfer to White Hart Lane.
He scored two goals on his "Hammers" debut on 21 March, in a 5–1 win against Manchester City at Maine Road.
His final game as a Hammer came on 1 May 1971 in a 1–0 home defeat to Huddersfield Town. Greaves scored 13 goals in 40 games in all competitions for West Ham. After leaving West Ham he took a two-year break from football before joining lower league side Brentwood then Chelmsford City both local to him.