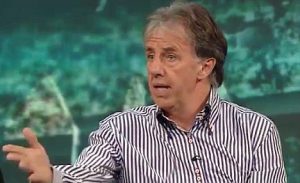 Mark Lawrenson has broken out of a stereotypical West Ham defeatist mindset but whether that's good or bad news remains to be seen.
The brand of football we are now playing seems to be getting through to him and he has gently admitted that in his view we are an "improving team."
Lawrenson always commands our attention because for all his obviously whingy faults he is not scared to give it large in his predictions column and in fairness to him does get quite a lot right.
However, he is always sparing in his comments towards the Hammers which means we – as fans – will stage our own competition with him on the outcome of weekend matches.
IF ANY OF YOU WANT TO GIVE YOUR PREDICTIONS AGAINST HIM LET US KNOW ON THE CANDH WEBSITE FORUM OR FACEBOOK AND WE WILL LET THE FIRST NAME OUT OF THE HAT EACH WEEK TAKE THEIR CHANCE 🙂
So here first is what he has to say about the outcome of Sunday's match as he sees it @ https://www.bbc.co.uk/sport/football/49708642:

West Ham got a point with 10 men against Aston Villa on Monday, and played some good stuff at times as well.
I think the Hammers are an improving team, and I am expecting them to have a real go at Manchester United, who are yet to convince me with their performances this season.
I can't remember a game where they have impressed me over the 90 minutes – even in their 4-0 win over Chelsea on the opening weekend, the scoreline did not tell the full story.
Clearly they are still building too and, if they end up in the top four this season, they will have done brilliantly.
Prediction: 2-1 
CandH: Whilst we believe United will attack us down the right side that would have been the case had Arthur been available or not as it is a recognised weak spot in out set up defensively.
However, we expect the manager to play Cresswell with Zaba now in reserve and ready to jump off the bench at the first sign of an emergency.
Our form and confidence is such – against a team that doesn't yet seem to have been established – whould be enough to carry us through.
We have beaten Norwich in classy fashion, drawn with ten against a tough Villa outfit and lets not forget the four against Watford.
Last season so us embarrass United in the same fixture and such is our growing stature  under a manager who believes attack is the best form of attack I can honestly only see a similar outcome.
Prediction: 3-1