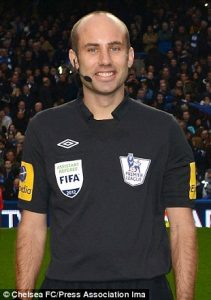 David Moyes said the referee Bobby Madley claimed his linesman Simon Long was not flagging offside but merely raising his flag to draw attention to the incident.
In his post-match interview, Moyes was asked what Madley said to him. Moyes replied "He [Madley] said that the linesman [Simon Long] only put his flag up to draw attention to it [the incident]. I thought, I have never heard of that ever. Look, I wish I wasn't talking about referees. I don't. Because the referees in this country do a good job, it's a tough game. But it was really costly for us today, in the end. So that's it"
The 36-year-old assistant referee was born in Colchester but lives in Truro, Cornwall.
Long is one of one of 27 assistant referees in the Premier League select group appointed by the Professional Game Match Officials Limited.