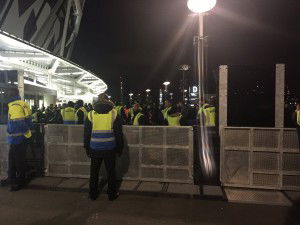 Segregation barriers put in place after the Burnley game last season are due to become a permanent fixture stopping the free movement of West Ham fans around the London Stadium.
West Ham say that following reports and conclusions drawn after the Burnley game they support Newham's Safety Advisory Group recommendations in relation to the segregation in the stadium and on the bridges. West Ham have told the safety group which includes Newham council, Met Police, E20 Stadium and operators London Stadium 185 that they would like to see these barriers being a permanent fixture going forward.
E20 clarified that there will continue to be a northwest barrier on the concourse, barriers in front of the directors box, barriers next to the Boleyn bar but there won't be a segregation line to the lower west stand as a conclusion has not yet being reached.