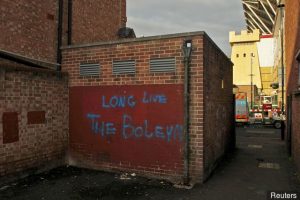 London based photographer and West Ham season ticket holder Freddie Bonfanti, has produced a book 'Long Live the Boleyn'  The images from his book are being exhibited in Hackney wick this month as he looks to further share his work with the West Ham fans.
"We all knew the Boleyn would no longer exist after the 2015/16 season," Bonfanti told the London Standard
"I obsessively wanted to archive and 'save' with my photographs as many of those familiar places and experiences as possible.
"I'm a season ticket holder and like everyone else, I was very fond of the place and the Saturday routines.
"At first I thought it would just be a personal project but the more I shot, the more I realised the photographs were telling a story, which I wanted to share with the rest of our fans."
20% of the profits made from the exhibition, which opens on Thursday, December 7 and runs until Christmas Eve, will be donated to DT38, a charity in memory of former Hammers academy player Dylan Tombides.
The exhibition opens Thursday 7th December, 7-10pm, free entry. Open daily 8th-24th December, 9am-5pm at Stour Space, 7 Roach Road, Hackney Wick, London, E3 2PA