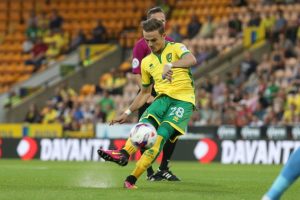 Various hares are already running as the Hammers summer transfer window starts to get active and much looks to be highly uninformed guesswork.
According to The Guardian for example the Hammers will be making a move for Norwich City's James Maddison as a replacement Manu Lanzini.
That would be all well and good were it not for the fact that Manuel Pellegrini and his director of football Mario Husillios are now entirely responsible for deciding who is likely to be targeted and negotiating the contracts.
And let's be honestit seems a bit rich to accept that within a few days of poor Manu being hit by a devastating cruciate injury, the pair of them – on opposite sides of the world – have come up with the name of a Championship player with whom we were linked in January as his replacement.
The Guardian however, declares boldly – whilst claiming Everton are front runners – :  "West Ham are poised to revive their interest in him after Manuel Lanzini sustained a ruptured anterior cruciate ligament while preparing for the World Cup finals with Argentina."
Whilst that becomes Rumour One of the afternoon, the second is that Lukasz Fabianski – who will be joining the Hammers – will become the No One choice between the sticks.
Another leap of the imagination because the facts are we are short of a keeper since Joe Hart cleared off to Man City and we are now up to strength again.
Nobody at this stage has a clue whether Adrian will remain to fight it out with the Pole or if a sec0ond keeper wil be arriving.
And what with The Sun claiming Housillas won't be joining – a story immediately denied by Hammers insiders – the silly season seems to have made a leap to completely stupid.
Pellegrini and Housillos start serious work later this week or early next and in the meantime one or two people need to calm down a little.