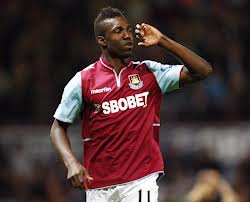 Modibo Maiga is a shock choice for the Mali's 23-man squad for the African Nations Cup.
The 27-year-old, on loan in Ligue 1 from West Ham United, has not played for his national team in over a year and won't have fond memories of the Nations Cup finals after contracting malaria at the 2012 tournament that was co-hosted by Gabon and Equatorial Guinea.
He was also recently disciplined by Metz after going AWOL amid rumours that he could have his contract cancelled and returned to the Boleyn.
However, his selection for the squad represents a big upswing in his fortunes and were he to have a decent tournament his chances of finding a permanent move from West  Ham could be significantly improved..