Mike is back with the second installment of his new show 'Mike on Monday' where he takes a quirky looks at all the weeks goings-on at West Ham United.
Like the rest of us Mike is slightly concerned about the deployment of top wage earner Javier 'Chicharito' Hernandez and tackles  the Bilic/Allardyce comparison head-on.
As you heard in the video Mike will be present on the Hammers Chat boats before the game and for those of you that don't know they are situated just opposite the aquatics center in the Queen Elizibeth Park right opposite the big screen.
The boat a bars are actually the closest venue to the London Stadium for West Ham fans to drink so if you'd like to join Mike for a beer and a burger before the game simply follow the link below to book for the Bolton game. We're very proud of the boats which have been running for over a year now as it has created a 'West Ham Local' and enabled us to transport a bit of the Boleyn spirit to the new ground whilst we got used to the new surroundings.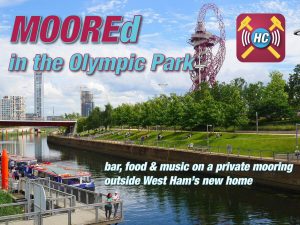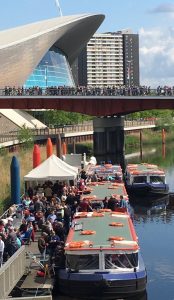 The MOORE'd event is strictly for West Ham fans and now away supporters will be allowed entry.
Hammers Chat, are hosting MOORE'd (PRE match only) exclusively for Hammers Chat & Claret & Hugh members and their guests prior to the Bolton match on Tuesday 19th September 2017. There will drink and music available between 4:45pm and kick off at 7:45pm – all within a few minutes walk of the Stadium.
There will be a BBQ at this event as normal.
https://www.eventbrite.co.uk/e/moored-in-queen-elizabeth-olympic-park-west-ham-v-bolton-tickets-37838251228